The ad MANITOU MRT 1840 ROTO Ładowarka Teleskopowa Obrotowa wheel loader has been sold and is not included in the search!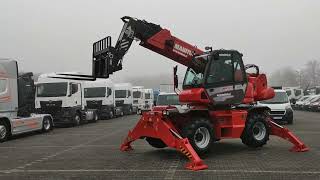 1/35
Model
MRT 1840 ROTO Ładowarka Teleskopowa Obrotowa
Location
Poland
koło Kielc
Placed on
more than 1 month
- Witam mamy do zaoferowania Państwu
Ładowarkę Teleskopową Manitou Roto MRT 1840 4x4x4
Zakupiona i użytkowana od 2017r
Przepracowane tylko 29600 mth
Wyposażenie
Parametry Techniczne
Moc silnika 102KM
Dodatkowa hydraulika
Podpory
Bezwypadkowa
Ważne UDT
Cena dotyczy samej ładowarki
Możliwość doposażenie w dowolny osprzęt
( Pilot ,Kosz
Wyciągarka ,Łyżka
Widłami,Bocian )
W ofercie inne podobne maszyny
Maszyna w Pełni sprawna gotowa do pracy od zaraz !!!
Link do filmu z ogłoszenia: https://youtu.be/I8HFovNOivs

Wszelkich informacji udzielę telefonicznie
605 440 440 tel/ WhatsApp
570 130 130 tel/ WhatsApp
574 440 130 tel/WhatsApp
Biuro - 570 380 380
Biuro(małpa)duetduda.pl
Pełna oferta na : duetduda.pl
Lokalizacja 26-035 Nowa Huta 124 30km od Kielc woj. Świętokrzyskie
- MOŻLIWOŚĆ SFINANSOWANIA
Za pomocą leasingu lub kredytu
MASZYNY PRZEZ NAS OFEROWANE ZNAJDUJĄ SIĘ NA TERENIE NASZEJ FIRMY: DUETDUDA.PL
Możliwość sprawdzenia maszyny przed zakupem przez serwis lub rzeczoznawcę
Zapraszamy i prosimy przed przybyciem o potwierdzenie aktualności oferty
Poniedziałek - Piątek w godz. 8.00 - 17.00
Sobota w godz. 8.00 - 15.00
Inne godziny oraz Niedziela po wcześniejszym umówieniu telefonicznym
Przedstawione dane maja charakter informacyjny
nie stanowią oferty w rozumieniu artykułu 66 k.c
Sprzedający nie odpowiada za ewentualne błędy lub nieaktualności ogłoszenia

Dodatkowe informacje: napęd: kola
masa eksploatacyjna: 13
moc użytkowa: 102
Numer oferty: AKL63XJ1
fast-coupling
Faktura VAT
Pierwszy właściciel
Ważne Udt Igła UNIKAT STAN !!!