The ad New WINTER WTE 1000 road marking machine has been sold and is not included in the search!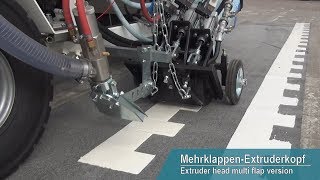 1/10
Type
road marking machine
Location
Germany
Wilnsdorf
Thermoplastic road marking machine from German manufacturer Winter-Grun.

Extruder version. Several extruder options are offered, depending on
- line width;
- the number of lines;
- standard, multi-DOT line
(we will help you find the option you need).

Boge air compressor type SK 36, effective capacity 1650 l / min.
Thermoplastic tank 600 litres (other tanks on request).
Glass bead tank 125 liters.
Computer control of markings.
Malowanka drogowa termoplastykom producenta Winter-Grun.

Wersja z ekstruderom. W zależności od modelu oferowanych jest kilka opcji ekstrudera
- szerokość linii;
- liczba wierszy;
(pomożemy znaleźć potrzebną opcję).

Sprężarka powietrza Boge typ SK 36 o wydajności 1650 l / min.
Zbiornik termoplastyczny 600 litrów (inne zbiorniki na zamówienie).
Zbiornik na kulki szklane na 125 litrów.
Komputerowa kontrola oznaczeń.
Машина дорожной разметки термопластиком немецкого производителя Winter-Grun.

Версия с экструдером. Предлагается несколько вариантов экструдера, в зависимости от
- ширины линий;
- количества линий;
- гладкая, multi-DOT
(мы поможем вам подобрать необходимый вариант).

Воздушный компрессор фирмы Boge тип SK 36, производительностью 1650 л/минуту.
Бак для термопластика 600 литров с мешалкой (по запросу баки других ёмкостей).
Бак для стеклошариков 125 литров.
Компьютерное управление разметкой.

Больше информации на сайте
www.zebramarking.com