The ad New WINTER WKP 1000 road marking machine has been sold and is not included in the search!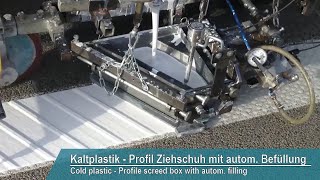 1/8
Type
road marking machine
Location
Germany
Wilnsdorf
Description
Overall dimensions
18.04 ft × 4.59 ft × 7.22 ft
Cold plastic road marking machine 98: 2 from the German manufacturer Winter-Grun.

Marking block with a set of different applicators (at the request of the Customer):
- standard line:
- structure, multi-DOT

Boge air compressor type SK 36.
Thermoplastic tank 650 liters (other tanks on request).
Glass bead tank for 125 liters.
Computer control of markings.
Malowarka drogowa na masę chemoutwardzalna 98: 2 niemieckiego producenta Winter-Grun.

Blok malujący z zestawem różnych aplikatorów (na życzenie Klienta):
- linia standardowa:
- struktura, multi-DOT

Sprężarka powietrza Boge typ SK 36.
Zbiornik termoplastyczny 650 litrów (inne zbiorniki na zamówienie).
Zbiornik na kulki szklane na 125 litrów.
Komputerowa kontrola.
Машина дорожной разметки холодным пластиком 98:2 немецкого производителя Winter-Grun.

Разметочный блок с набором различных аппликаторов (по запросу Заказчика):
- стандартная линия:
- структура, multi-DOT

Воздушный компрессор 3-цилиндровый Boge тип SK 36.
Бак для материала 650 литров с мешалкой (по запросу баки других ёмкостей).
Бак для стеклошариков 125 литров.
Компьютерное управление разметкой.

Больше информации на сайте
https://zebramarking.com/product/wkp-1000/