The ad Caterpillar 307D mini excavator has been sold and is not included in the search!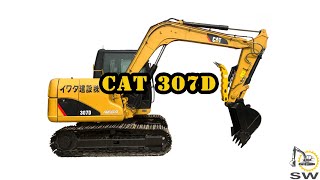 1/7
Year of manufacture
07/2016
First registration
2016-07-01
Location
China
Placed on
more than 1 month
Description
Overall dimensions
19.91 ft × 7.55 ft × 8.53 ft
Engine
Brand
Mitsubishi Mitsubishi 4M40TL
Fuel consumption
1.85 gal/h
Condition
Technical inspection valid till
2021-07-01
-About Us:
We,Shiwen Construction Machinery Co., Ltd., have specialized in the international trade of used construction machinery for more than 20 years. Long-term supply various second-hand excavators, bulldozers, loaders, graders and etc.(including Caterpillar, Komatsu, Hitachi, Volvo, Doosan, Sany, etc.).
Each machine will be precisely inspected by the professional technicians and free charge of test driving for the customers. You can send your agents to our warehouse and inspect on-site.
Welcome to China and visit our company. We will supply you with the best machines and prices.

-Extra Service
1.Airport picking up.
2.Provide the best pre-sale and after-sales service.
3.Show you around Shanghai/Anhui.
4.Hotel booking.

-Tips:
1.If you find any of the machines interested, please kindly let me know and we can offer more relevant photos and detailed specifications for you.
2.Our professional team make special effort to solve all problems or buy some quick-wear parts for you.
3.All machines are imported or exported legally with complete procedures.

-Shipping Method:
1. Flat rack is better for bigger construction equipment and no need to dismantle.
2. Container is cheapest and fast.
3. Bulk cargo ship is better for bigger construction equipment.
You can choose any transportation according to your needs!

-Q&A
1.Why can we trust you?
Before ordering, you can send agent to inspect the machine and our company.
2.What guarantee can you provide?
If there is any problem with the machine before shipping, you can get full refund.
3.What's the payment?
After your agent inspects the machine, if you're satisfied, 40% of total as a deposit.
4.What's time of delivery?
According to the destiny and shipping schedule, we will book the earliest ship.
5.What about the warranty?
12 months after shipping or within 3500 working hours.
-quiénes somos:
Nosotros, Shiwen Construction Machinery Co., Ltd., nos hemos especializado en el comercio internacional de maquinaria de construcción usada durante más de 20 años. Suministro a largo plazo de varias excavadoras de segunda mano, topadoras, cargadoras, niveladoras, etc.(incluyendo Caterpillar, Komatsu, Hitachi, Volvo, Doosan, Sany, etc.).
Cada máquina será inspeccon precisión por los técnicos profesionales y libre de cargo de prueba de conducción para los clientes. Puede enviar sus agentes a nuestro almacén e inspecin situ.
Bienvenido a China y visite nuestra empresa. Le suministraremos las mejores máquinas y precios.

- servicio extra
1. Recogida en el aeropuerto.
2. Proporcionar el mejor servicio de pre-venta y post-venta.
3. Mostrar en torno a Shanghai/Anhui.
4. Reserva de Hotel.

-consejos:
1. Si usted encuentra cualquiera de las máquinas interesadas, por favor, hágamelo saber y podemos ofrecer fotos más relevantes y especificaciones detalladas para usted.
2. Nuestro equipo de profesionales hace un esfuerzo especial para resolver cualquier problema o comprar algunas piezas de desgaste rápido para usted.
3. Todas las máquinas se importan o exportan legalmente con procedimientos completos.

-método de envío:
1. El bastiplano es mejor para equipos de construcción más grandes y sin necesidad de desmontar.
2. Contenedor es más barato y rápido.
3. Buque de carga a granel es mejor para equipos de construcción más grandes.
Usted puede elegir cualquier transporte de acuerdo a sus necesidades!

Preguntas y respuestas
1. ¿Por qué podemos confiar en ti?
Antes de ordenar, puede enviar agente para inspeccionar la máquina y nuestra empresa.
2. ¿Qué garantía pueden dar?
Si hay cualquier problema con la máquina antes del envío, usted puede conseguir reembolso completo.
3. ¿Cuál es el pago?
Después de que su agente inspecla la máquina, si está satisfecho, 40% del total como un depósito.
4. ¿Cuál es el tiempo de entrega?
Según el destino y el horario de envío, reservaremos el barco más antiguo.
5. ¿Qué pasa con la garantía?
12 meses después del envío o dentro de 3500 horas de trabajo.
-tentang kita:
Kami,Shiwen konstruksi mesin Co, Ltd, telah khusus dalam perdagangan internasional digunakan mesin konstruksi selama lebih dari 20 tahun. Pasokan jangka panjang berbagai penggali, buldoser, pemangkas, dan lain-lain.(termasuk Caterpillar, Komatsu, Hitachi, Volvo, Doosan, Sany, DLL.).
Setiap mesin akan diperiksa dengan tepat oleh para teknisi profesional dan biaya gratis tes mengemudi untuk pelanggan. Anda dapat mengirim agen anda ke gudang kami dan memeriksa di tempat.
Selamat datang di cina dan mengunjungi perusahaan kami. Kami akan menyediakan anda dengan mesin terbaik dan harga.

-layanan ekstra
1. Bandara mengambil.
2. Menyediakan layanan pra-penjualan dan setelah-penjualan terbaik.
3. Berkeliling Shanghai/Anhui.
4. Pemesanan Hotel.

-Tips:
1. Jika anda menemukan salah satu mesin yang tertarik, tolong beritahu saya dan kami dapat menawarkan lebih banyak foto yang relevan dan spesifikasi rinci untuk anda.
2. Tim profesional kami membuat upaya khusus untuk memecahkan semua masalah atau membeli beberapa pakaian cepat untukmu.
3. Semua mesin diimpor atau diekspor secara legal dengan prosedur lengkap.

-metode pengiriman:
1. Rak datar lebih baik untuk peralatan konstruksi yang lebih besar dan tidak perlu membongkar.
2. Kontainer yang paling murah dan cepat.
3. Kapal kargo besar lebih baik untuk peralatan konstruksi yang lebih besar.
Anda dapat memilih setiap transportasi sesuai dengan kebutuhan anda!

-Q&A
1. Kenapa kami bisa mempercayaimu?
Sebelum memesan, anda dapat mengirim agen untuk memeriksa mesin dan perusahaan kami.
2. Jaminan apa yang dapat anda berikan?
Jika ada masalah dengan mesin sebelum pengiriman, anda bisa mendapatkan pengembalian dana penuh.
3. Apa pembayarannya?
Setelah agen anda memeriksa mesin, jika anda puas, 40% dari total sebagai deposit.
4. Apa waktu pengiriman?
Menurut takdir dan jadwal pengiriman, kita akan memesan kapal paling awal.
5. Bagaimana dengan garansi?
12 bulan setelah pengiriman atau dalam waktu 3500 jam kerja.