You may find interesting
Close
CATERPILLAR 773B
$41,600
CATERPILLAR 769D
$57,860
CATERPILLAR 773B
$41,600
O&K K40.5
price on request
CATERPILLAR 769c
price on request
CATERPILLAR 775 F
price on request
CATERPILLAR HD405 -7 German Truck - Good tyres haul truck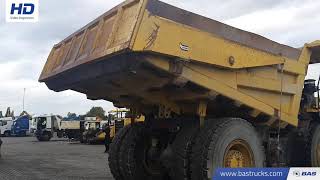 1/24
Model
HD405 -7 German Truck - Good tyres
First registration
2006-01-01
Location
Netherlands
Veghel
Placed on
more than 1 month
Description
Overall dimensions
length - 30.25 ft, width - 15.88 ft
Remote inspection
Request an independent technical inspection
= More options and accessories =
- Rear view camera
A backup camera (also called a reversing camera or rear-view camera) is a special type of video camera that is produced specifically for the purpose of being attached to the rear of a vehicle to aid in backing up, and to alleviate the rear blind spot. It is specifically designed to avoid a backup collision. The area directly behind vehicles has been described as a "killing zone" due to the associated carnage. Backup cameras are usually connected to the vehicle head unit display.
= Dealer information =
Contact BAS Machinery on WhatsApp
show contacts
You can view this machine on our website
show contacts
for 360 degree pictures of the in and outside, a HD video inspection and all the technical specifications.
BAS Machinery is located in Veghel, the Netherlands and part of BAS Trucks. We have a stock of over 180 machines (heavy construction and mining equipment) of all brands, types and product groups.
Worldwide delivery
We can assist you if you want with the in- or export, shipping of transport of your purchase. Please contact us for all the options to your country on
show contacts
Our team speaks 13 languages so we have always someone available who can help you.
Visit BAS Machinery
If you would like to visit the machine in The Netherlands before buying, no problem! We are opened 6 days a week. We can pick you up with our shuttle service from Eindhoven airport, Den Bosch, Schiphol Amsterdam, Düsseldorf, Dortmund or Brussel airport.
= More information =
Drive: Wheel
CE mark: yes
Свържете се с BAS Machinery на WhatsApp
show contacts
Можете да разгледате тази машина на нашия уебсайт
show contacts
за 360 градусови снимки на и отвън, HD видео инспекция и всички технически спецификации.
BAS Machinery се намира във Вегел, Холандия и е част от BAS Trucks. Разполагаме с запас от над 180 машини (тежко строително и минно оборудване) от всички марки, видове и групи продукти.
Доставка по целия свят
Можем да ви помогнем, ако искате с доставката за доставка или доставка на транспорт на вашата покупка. Моля, свържете се с нас за всички възможности за вашата страна на
show contacts
Нашият екип говори 13 езика, така че винаги имаме някой на разположение, който може да ви помогне.
Посетете BAS Machinery
Ако искате да посетите машината в Холандия преди да купите, няма проблем! Отворени сме 6 дни в седмицата. Можем да ви вземем трансфера от летището в Айндховен, Den Bosch, Schiphol Amsterdam, Düsseldorf, Dortmund или Brussel
= Weitere Optionen und Zubehör =
- Rückfahrsystem
Eine Rückfahrkamera (auch als Rückfahrkamera oder Rückfahrkamera bezeichnet) ist eine spezielle Art von Videokamera, die speziell für den Zweck hergestellt wird, an der Rückseite eines Fahrzeugs angebracht zu werden, um beim Rückwärtsfahren zu helfen und die Rückblende zu erleichtern Stelle. Es wurde speziell entwickelt, um eine Backup-Kollision zu vermeiden. Der Bereich direkt hinter den Fahrzeugen wurde aufgrund des damit verbundenen Gemetzels als "Kiltzone" bezeichnet. Rückfahrkameras sind normalerweise mit dem Display der Fahrzeughaupteinheit verbunden.
= Firmeninformationen =
Kontakt BAS Machinery on WhatsApp
show contacts
Sie können dieses Gerät auf unserer Website
show contacts
für 360-Grad-Bilder von innen und außen, eine HD-Videoüberprüfung und alle technischen Spezifikationen anzeigen.
BAS Machinery befindet sich in Veghel, Niederlande und ist Teil von BAS Trucks. Wir haben ein Lager von über 180 Maschinen (schwere Bau- und Bergbaumaschinen) aller Marken, Typen und Produktgruppen.
Weltweite Lieferung
Wir unterstützen Sie, wenn Sie den Ein- oder Export, den Versand, wünschen Transport Ihres Kaufs. Bitte kontaktieren Sie uns für alle Optionen für Ihr Land unter
show contacts
Unser Team spricht 13 Sprachen, so dass immer jemand zur Verfügung steht, der Ihnen helfen kann.
Besuchen Sie BAS Machinery
Wenn Sie die Maschine in den Niederlanden vor dem Kauf besuchen möchten, kein Problem! Wir sind 6 Tage die Woche geöffnet. Wir holen Sie mit unserem Shuttleservice vom Flughafen Eindhoven, Den Bosch, Schiphol Amsterdam, Düsseldorf, Dortmund oder Brüssel ab.
= Weitere Informationen =
Antrieb: Rad
CE-Kennzeichnung: ja
= Más opciones y accesorios =
- Cámara trasera
Una cámara de respaldo (también llamada cámara de marcha atrás o cámara de visión trasera) es un tipo especial de cámara de video que se produce específicamente para ser sujetada a la parte trasera de un vehículo para ayudar a retroceder, y para aliviar la parte trasera ciega lugar. Está específicamente diseñado para evitar una colisión de respaldo. El área directamente detrás de los vehículos se ha descrito como una "zona de matanza" debido a la carnicería asociada. Las cámaras de respaldo generalmente se conectan a la pantalla de la unidad principal del vehículo.
= Información de la empresa =
Póngase en contacto con BAS Machinery en WhatsApp
show contacts
Puede ver esta máquina en nuestro sitio web
show contacts
para obtener imágenes de 360 ​​grados del interior y exterior, una inspección de video HD y todas las especificaciones técnicas.
BAS Machinery está ubicada en Veghel, Países Bajos y parte de BAS Trucks. Tenemos un stock de más de 180 máquinas (maquinaria pesada de construcción y minería) de todas las marcas, tipos y grupos de productos.
Entrega a nivel mundial
Podemos ayudarlo si lo desea con la exportación o el envío. de transporte de su compra. Póngase en contacto con nosotros para todas las opciones para su país en
show contacts
Nuestro equipo habla 13 idiomas, por lo que siempre tenemos a alguien disponible que puede ayudarlo.
Visite BAS Machinery
Si desea visitar la máquina en los Países Bajos antes de comprar, ¡no hay problema! Estamos abiertos 6 días a la semana. Podemos recogerlo con nuestro servicio de traslado desde el aeropuerto de Eindhoven, Den Bosch, Schiphol Amsterdam, Düsseldorf, Dortmund o Brussel.
= Más información =
Propulsión: Rueda
Marcado CE: sí
= Plus d'options et d'accessoires =
- Caméra de recul
Une caméra de recul (également appelée caméra de recul ou caméra de recul) est un type spécial de caméra vidéo qui est produite spécifiquement pour être fixée à l'arrière d'un véhicule afin d'aider à reculer et pour soulager le store arrière. place. Il est spécialement conçu pour éviter une collision de secours. La zone directement derrière les véhicules a été décrite comme une «zone de mise à mort» en raison du carnage associé. Les caméras de recul sont généralement connectées à l'affichage de l'unité principale du véhicule.
= Information sur la société =
Contactez BAS Machinery sur WhatsApp au
show contacts
Vous pouvez voir cette machine sur notre site web
show contacts
pour des photos à 360 degrés de l'intérieur et de l'extérieur, une inspection vidéo HD et toutes les spécifications techniques.
BAS Machinery est situé à Veghel, aux Pays-Bas et fait partie de BAS Trucks. Nous avons un stock de plus de 180 machines (matériel lourd de construction et d'exploitation minière) de toutes marques, types et groupes de produits.
Livraison dans le monde entier
Nous pouvons vous aider si vous le souhaitez, que ce soit pour l'exportation ou l'exportation, ou pour l'expédition. de transport de votre achat. Veuillez nous contacter pour toutes les options dans votre pays sur
show contacts
Notre équipe parle 13 langues, nous avons donc toujours quelqu'un de disponible pour vous aider.
Visitez BAS Machinery
Si vous souhaitez visiter la machine aux Pays-Bas avant de l'acheter, pas de problème! Nous sommes ouverts 6 jours par semaine. Nous pouvons venir vous chercher avec notre service de navette depuis l'aéroport d'Eindhoven, Den Bosch, Schiphol Amsterdam, Düsseldorf, Dortmund ou l'aéroport de Bruxelles.
= Plus d'informations =
Commande: Roue
Marquage CE: oui
Kontaktirajte BAS Machinery na WhatsApp
show contacts
Ovaj uređaj možete pogledati na našoj web stranici
show contacts
za slike od 360 stupnjeva izvana i izvana, HD video pregled i sve tehničke specifikacije.
BAS Machinery nalazi se u Veghelu, Nizozemska i dio je BAS Trucks. Imamo zalihu od preko 180 strojeva (teška građevinska i rudarska oprema) svih marki, tipova i grupa proizvoda.
Dostava širom svijeta
Možemo vam pomoći ako želite s isporukom ili izvozom, isporukom prijevoza kupnje. Molimo kontaktirajte nas za sve mogućnosti u vašoj državi na
show contacts
Naš tim govori 13 jezika, tako da uvijek imamo nekoga ko vam može pomoći.
Posjetite BAS Machinery
Ako želite posjetiti stroj u Nizozemskoj prije kupnje, nema problema! Otvoreni smo 6 dana u tjednu. Možemo pokupiti uslugu prijevoza sa zračne luke Eindhoven, Den Bosch, Amsterdam Schiphol, Düsseldorf, Dortmund ili Brussel
Telecamera posteriore
Una telecamera di backup (anche chiamata telecamera per la retromarcia o telecamera per la retrovisione) è un tipo speciale di videocamera prodotta specificamente allo scopo di essere collegata alla parte posteriore di un veicolo per facilitare il backup e per alleviare la tendina posteriore individuare. È progettato specificamente per evitare una collisione di backup. L'area direttamente dietro i veicoli è stata descritta come una "zona di uccisione" a causa della carneficina associata. Le telecamere di backup sono solitamente collegate al display dell'unità di testa del veicolo.
Contatta BAS Machinery su WhatsApp
show contacts
È possibile visualizzare questa macchina sul nostro sito Web
show contacts
per immagini a 360 gradi di dentro e fuori, un'ispezione video HD e tutte le specifiche tecniche.
BAS Machinery ha sede a Veghel, in Olanda, e fa parte di BAS Trucks. Abbiamo uno stock di oltre 180 macchine (attrezzature per costruzioni pesanti e miniere) di tutte le marche, tipi e gruppi di prodotti.
Consegna in tutto il mondo
Possiamo aiutarti se vuoi con l'esportazione o l'esportazione di trasporto del tuo acquisto. Vi preghiamo di contattarci per tutte le opzioni per il vostro paese su
show contacts
Il nostro team parla 13 lingue, quindi abbiamo sempre qualcuno disponibile che può aiutarti.
Visita BAS Machinery
Se desideri visitare la macchina in Olanda prima di acquistare, nessun problema! Siamo aperti 6 giorni a settimana. Possiamo venirvi a prendere con il nostro servizio navetta dall'aeroporto di Eindhoven, Den Bosch, Schiphol Amsterdam, Düsseldorf, Dortmund o l'aeroporto di Brussel
= Aanvullende opties en accessoires =
- Achteruitrijcamera
Een achteruitrijcamera is een camerasysteem in een auto, bus of vrachtwagen. Het camerasysteem is een hulpmiddel voor bestuurders om tijdens het achteruitrijden te zien wat er zich achter het voertuig afspeelt. Het verschil met achterom kijken of de achteruitkijkspiegel gebruiken is dat de achteruitrijcamera de volledige dode hoek achter de auto weergeeft.
= Bedrijfsinformatie =
Stuur ons een bericht op WhatsApp
show contacts
U kunt deze machine bekijken op onze website
show contacts
voor 360 graden foto's van de in- en buitenkant, een HD video-inspectie en alle technische specificaties.
BAS Machinery is gevestigd in Veghel, Nederland en onderdeel van BAS Trucks. We hebben een voorraad van meer dan 180 machines (zware bouw- en mijnbouwapparatuur) van alle merken, typen en productgroepen.
Wereldwijde levering
We kunnen u helpen als u wilt met in- of export, verzending van transport van uw aankoop. Neem voor alle opties naar uw land contact met ons op via
show contacts
Ons team spreekt 13 talen, dus we hebben altijd iemand beschikbaar die u kan helpen.
Bezoek BAS Machinery
Als u de machine in Nederland wilt bezoeken voordat u koopt, geen probleem! We zijn 6 dagen per week geopend. We halen u op met onze shuttle service vanaf Eindhoven airport, Den Bosch, Schiphol Amsterdam, Düsseldorf, Dortmund of Brussel airport.
= Meer informatie =
Aandrijving: Wiel
CE markering: ja
= Więcej opcji i akcesoriów =
- Kamera cofania
Kamera zapasowa (zwana także kamerą cofania lub aparatem cofania) jest specjalnym typem kamery wideo, która została wyprodukowana specjalnie w celu przymocowania do tylnej części pojazdu, aby pomóc w cofaniu i złagodzić tylną zasłonę miejsce. Został specjalnie zaprojektowany, aby uniknąć kolizji kopii zapasowej. Obszar bezpośrednio za pojazdami został opisany jako "strefa zabijania" ze względu na powiązaną rzeźnię Kamery zapasowe są zwykle podłączone do wyświetlacza jednostki głównej pojazdu.
= Informacje o przedsiębiorstwie =
Skontaktuj się z BAS Machinery on WhatsApp
show contacts
Możesz obejrzeć tę maszynę na naszej stronie internetowej
show contacts
aby uzyskać zdjęcia 360 stopni z wewnątrz i na zewnątrz, kontrolę wideo HD i wszystkie specyfikacje techniczne.
Firma BAS Machinery znajduje się w Veghel w Holandii i jest częścią BAS Trucks. Posiadamy zapasy ponad 180 maszyn (ciężki sprzęt budowlany i górniczy) wszystkich marek, typów i grup produktów.
Ogólnoświatowa dostawa
Możemy Ci pomóc, jeśli chcesz z wewnątrz lub na eksport, wysyłka transportu twojego zakupu. Skontaktuj się z nami, aby uzyskać wszystkie opcje dotyczące Twojego kraju na stronie
show contacts
Nasz zespół mówi w 13 językach, więc zawsze mamy kogoś, kto może ci pomóc.
Odwiedź BAS Machinery
Jeśli chciałbyś odwiedzić maszynę w Holandii przed zakupem, nie ma problemu! Jesteśmy otwarci 6 dni w tygodniu. Możemy odebrać Cię z naszej usługi transportowej z lotniska w Eindhoven, Den Bosch, Schiphol Amsterdam, Düsseldorf, Dortmund lub lotniska Brussel.
= Więcej informacji =
Napęd: Koło
Oznaczenie CE: tak
Câmera de visão traseira
Uma câmera de segurança (também chamada de câmera de ré ou câmera de visão traseira) é um tipo especial de câmera de vídeo que é produzida especificamente para ser conectada à parte traseira de um veículo para ajudar no backup e para aliviar o painel traseiro. local. Ele é projetado especificamente para evitar uma colisão de backup. A área diretamente atrás dos veículos tem sido descrita como uma "zona de abate" devido à carnificina associada. As câmeras de segurança geralmente são conectadas ao display da unidade principal do veículo.
Entre em contato com BAS Machinery no WhatsApp
show contacts
Você pode ver esta máquina em nosso site
show contacts
para fotos de 360 ​​graus do dentro e de fora, uma inspeção de vídeo HD e todas as especificações técnicas.
A BAS Machinery está localizada em Veghel, Holanda e parte da BAS Trucks. Temos um estoque de mais de 180 máquinas (equipamentos pesados ​​de construção e mineração) de todas as marcas, tipos e grupos de produtos.
Entrega mundial
Podemos ajudá-lo se você quiser com a exportação ou exportação de transporte de sua compra. Por favor, entre em contato conosco para todas as opções para o seu país em
show contacts
Nossa equipe fala 13 idiomas, então sempre temos alguém disponível para ajudá-lo.
Visite a BAS Machinery
Se você quiser visitar a máquina na Holanda antes de comprar, não há problema! Estamos abertos 6 dias por semana. Podemos buscá-lo com o nosso serviço de transporte do aeroporto de Eindhoven, Den Bosch, Schiphol Amesterdão, Düsseldorf, Dortmund ou Aeroporto de Brussel
Vedere din spate
O cameră de rezervă (numită și o cameră de mers înapoi sau o cameră de vizionare) este un tip special de cameră video produsă special pentru a fi atașată în partea din spate a unui vehicul pentru a ajuta la efectuarea de copii de siguranță și pentru a atenua spatele orb loc. Acesta este conceput special pentru a evita o coliziune de rezervă. Zona direct din spatele vehiculelor a fost descrisă ca o "zonă de ucidere" din cauza carniei asociate Camerele de rezervă sunt de obicei conectate la afișajul unității capului vehiculului.
Contactați BAS Machinery pe WhatsApp
show contacts
Puteți vizualiza această mașină pe site-ul nostru
show contacts
pentru imagini de 360 ​​de grade ale interiorului și exteriorului, o inspecție video HD și toate specificațiile tehnice.
BAS Machinery este situată în Veghel, Olanda și parte a BAS Trucks. Avem un stoc de peste 180 de utilaje (utilaje grele de construcții și echipamente miniere) din toate brandurile, tipurile și grupele de produse.
Livrare la nivel mondial
Vă putem ajuta dacă doriți cu livrare în / de transport al achiziției dvs. Contactați-ne pentru toate opțiunile pentru țara dvs. pe
show contacts
Echipa noastră vorbeste 13 limbi, astfel încât să avem întotdeauna cineva care vă poate ajuta.
Vizitați BAS Machinery
Dacă doriți să vizitați mașina în Olanda înainte de a cumpăra, nu există nici o problemă! Suntem deschisi 6 zile pe saptamana. Vă putem ridica cu serviciul nostru de transfer de la aeroportul din Eindhoven, aeroportul Den Bosch, Schiphol Amsterdam, Düsseldorf, Dortmund sau Bruxelles
= Дополнительные опции и оборудование =
- Камера заднего вида
Резервная камера (также называемая камерой заднего вида или камерой заднего вида) представляет собой особый тип видеокамеры, который изготовлен специально для крепления к задней части транспортного средства, чтобы помочь в резервном копировании, и для облегчения задней задней место. Он специально разработан для предотвращения резервного копирования. Область, расположенная непосредственно за транспортными средствами, была описана как «зона убийства» из-за связанной с ней камеры. Резервные камеры обычно подключаются к дисплею головного устройства автомобиля.
= Информация о дилере =
Связаться с BAS Machinery на WhatsApp
show contacts
Вы можете просмотреть эту машину на нашем веб-сайте
show contacts
для 360-градусных изображений внутри и снаружи, видеообследования HD и всех технических спецификаций.
BAS Machinery находится в Veghel, Нидерланды и входит в состав BAS Trucks. У нас есть запас более чем 180 машин (тяжелое строительное и горнодобывающее оборудование) всех марок, типов и групп продуктов.
Доставка по всему миру
Мы можем помочь вам, если вы хотите с ввозом или экспортом, доставкой транспортировки вашей покупки. Пожалуйста, свяжитесь с нами для всех вариантов в вашей стране на
show contacts
Наша команда говорит на 13 языках, поэтому у нас всегда есть кто-то, кто может вам помочь.
Посетите BAS Machinery
Если вы хотите посетить машину в Нидерландах, прежде чем покупать, не проблема! Мы открыты 6 дней в неделю. Мы можем забрать вас с нашим трансфером из аэропорта Эйндховена, Ден-Бош, Схипхол Амстердам, Дюссельдорф, Дортмунд или аэропорт Брюсселя.
= Дополнительная информация =
Привод: Колесо
Знак CE: да
Important
This offer is for guidance only. Please request more precise information from the seller.
Safety tips
Seller's contacts
BAS Machinery
Seller with Machineryline for 3 years
The phone numbers have been checked
Netherlands, Noord Brabant, 5466 AP, Veghel, Mac Arthurweg 2
Seller's local time: 04:36 pm (CEST)
Selling machinery or vehicles?
You can do it with us!