The ad New Weni Solution laser fibrowy WS3015H PRO 3kW - FULL OPCJA fiber laser machine has been sold and is not included in the search!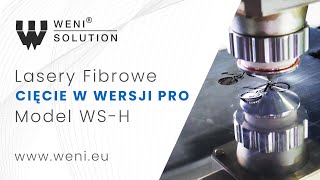 1/6
Location
Poland
Nysa
Placed on
more than 1 month
Purchase on credit is possible
Purchase by installments is possible
Description
Overall dimensions
26.74 ft × 13.12 ft × 7.55 ft
ONLY NOW! Promotion!

Free: Weni Care insurance (includes flooding, fire). The price of this device includes a second gas line.

FULL OPTION + FREE accessories:
The set includes: stabilizer, electronic gas pressure control, "Weni Care" year insurance, 2x glasses, 15x protective lenses down, 15x protective lenses up, 2x ceramic ring, 50x nozzles, PL software and more!

Weni Solution model: WS3015H PRO (3000x1500mm)

A new professional model of high power "High Power" laser cutter with an additional loading platform and a full housing, which in practice means two interchangeable work tables working alternately, thus using the full production speed of the device. The perfect solution for full-size production, where the time of material processing is a priority.

The housing of the H model has a 4-chamber exhaust system, fully sliding side and front doors, an additionally installed camera with an additional LCD monitor allows you to monitor the work of the machining process. The laser has two tables with a working area of ​​3000x1500mm and a power of 3000W.

The given price is a net amount. Make an appointment for a free presentation today or ask for an offer!
TYLKO TERAZ! Promocja!

Gratis: ubezpieczenie Weni Care (obejmuje między innymi zalanie, pożar). W cenie tego urządzenia druga linia gazu.

FULL OPCJA + akcesoria GRATIS:
W skład wchodzi dodatkowo: stabilizator, elektroniczne sterowanie ciśnieniem gazu, ubezpieczenie na rok "Weni Care", 2x okulary, 15x soczewek ochronnych dół, 15x soczewek ochronnych góra, 2x pierścień ceramiczny, 50x dysz, oprogramowanie PL i inne!

Weni Solution model: WS3015H PRO (3000x1500mm)

Nowy profesjonalny model wysokiej mocy "High Power" wycinarki laserowej z dodatkową platformą ładunkową oraz pełną obudową, co oznacza w praktyce dwa wymienne stoły robocze pracujące na przemian, wykorzystując tym samym pełną prędkość produkcyjną urządzenia. Idealne rozwiązanie dla produkcji pełno wymiarowej, dla której czas obróbki materiału na priorytetowe znaczenie.

Obudowa modelu H posiada 4-komorowy system wyciągu, w pełni odsuwane drzwi boczne oraz przednie, dodatkowo zainstalowana kamera z dodatkowym monitorem LCD pozwala na monitorowanie pracy przebiegu procesu obróbki. Laser posiada dwa stoły o polu roboczym 3000x1500mm i moc 3000W.

Podana cena jest kwotą netto. Umów się już dzisiaj na prezentację lub zapytaj o ofertę!