The ad IVECO Daily 35S11 - 16 m Multitel 160 ALU DS / with technical inspecti bucket truck has been sold and is not included in the search!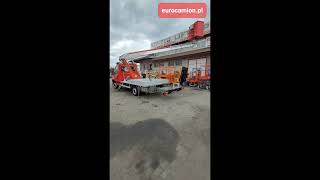 1/19
Model
Daily 35S11 - 16 m Multitel 160 ALU DS / with technical inspecti
Location
Poland
Rzeszow
Placed on
more than 1 month
Szczegóły oferty:
Podnośnik koszowy 16 m zamontowany na podwoziu Iveco Daily o DMC 3,5T

Przed przyjazdem prosimy o kontakt w celu umówienia się na spotkanie oraz potwierdzenia dostępności maszyny.

URZĄDZENIE DOSTĘPNE W NASZEJ FIRMIE

podnośnik posiada Decyzję UDT zezwalającą na eksploatację


DANE TECHNICZNE URZĄDZENIA:
Podnośnik koszowy teleskopowy
Model podnośnika Multitel 160 ALU DS
Wysokość robocza 16,30 m
Boczny zasięg do 10,20 m
Udźwig kosza 200 kg
Obrót wieżyczki: 360°
Wymiary kosza: 1,6 x 0,7 x 1,1 m
Rotacja kosza: ± 60°
Sterowanie z kosza
Sterowanie z dołu samochodu
Kosz obrotowy, pochyły izolowany automatycznie lub ręcznie poziomowany (możliwość zmiany na otwarty)
Gaszenie ,odpalanie silnika z kosza oraz z poziomu platformy
Wymiary w pozycji transportowej:
Długość: 7,46 m
Szerokość: 2,1 m
Wysokość: 2,78 m
Polecamy Kredyt, leasing w procedurze uproszczonej bez zaświadczeń ZUS,US
Cena do negocjacji

W CENIE URZĄDZENIA:
-przeprowadzenie badania UDT.
-dokumentacja urządzenia oraz instrukcja obsługi w języku polskim
-komplet gotowych dokumentów do zarejestrowania pojazdu jako pojazd specjalny.
-certyfikat (CE)

Oferujemy profesjonalne doradztwo w zakresie dopasowania maszyn indywidualnie do potrzeb naszych klientów.

Posiadamy wykwalifikowanych serwisantów oraz zaplecze oryginalnych części renomowanych producentów a także tańsze zamienniki w pełni funkcjonalne i niezawodne

Zapewniamy w pełni sprawne urządzenia gdyż wszystkie nasze urządzenia przed sprzedażą na zlecenie klienta poddawane są szczegółowej weryfikacji i wymaganym naprawom przez naszych fachowców. Sprawność techniczna naszych urządzeń zostaje potwierdzona i udokumentowana przez Inspekcję Urzędu Dozoru Technicznego.

Za nami duże grono zadowolonych klientów z całej Polski oraz Europy.


Więcej informacji pod numerem telefonu
+ 48501-509-006
+ 48500-076-333




Niniejsze ogłoszenie jest wyłącznie informacją handlową i nie stanowi oferty w myśl art.66§ 1. Kodeksu Cywilnego. Sprzedający nie odpowiada za ewentualne błędy lub nieaktualność ogłoszenia.
Nota ta została zawarta ze względu na możliwość nie zamierzonych pomyłek.