The ad HAULOTTE HA260PX articulated boom lift has been sold and is not included in the search!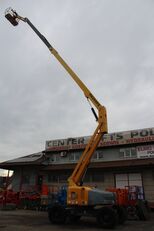 1/19
Type
articulated boom lift
Location
Poland
Rzeszow
Placed on
more than 1 month
Szczegóły oferty:
Podnośnik koszowy wolnobieżny 26 m

W ofercie nowe oraz używane podnośniki różnego rodzaju pełna oferta dostępna na naszej stronie: EUROCAMION.PL

URZĄDZENIE DOSTĘPNE W NASZEJ FIRMIE

Przed przyjazdem prosimy o kontakt w celu umówienia się na spotkanie oraz potwierdzenia dostępności maszyny.



Model: Haulotte HA260PX
Napęd 4X4X4
Obie osie skrętne
Wysokość robocza 25,6 m
Zasięg boczny 16,2 m
Udźwig kosza 230 kg
Obrót wieżyczki 360°
Kąt obrotu kosza +90° / -90°
Zakres ruchu ramienia JIB +70° / -70°
Jazda na pełnej wysokości
Sterowanie z kosza
Sterowanie z dołu
Jazda szybka, wolna
Zewnętrzny promień skrętu 3,90 m
Odległość między środkami kół 2,80 m
Silnik Diesel Deutz
Moc silnika 42 kW
Wymiary kosza 1,8 x 0,8 m
Długość maszyny złożonej do transportu (podwinięty kosz) 9,50 m
Szerokość w pozycji transportowej 2,38 m
Wysokość w pozycji transportowej 2,70 m
Długość transportowa 12 m
Wysokość transportowa 3,20 m
Maksymalny prześwit 42 cm
Max pochylenie robocze 5°
Zdolność pokonywania wzniesień - kąt nachylenia 40 %
Prędkość jazdy 4,5 km/h
Waga 15 950 kg


Możliwość przeprowadzenia badania UDT


W CENIE URZĄDZENIA:
-pełna dokumentacja urządzenia oraz instrukcja obsługi w języku polskim
-certyfikat (CE)

Posiadamy wykwalifikowanych serwisantów oraz zaplecze oryginalnych części renomowanych producentów a także tańsze zamienniki w pełni funkcjonalne i niezawodne

Zapewniamy profesjonalne doradztwo z zakresie dopasowania maszyn indywidualnie do potrzeb naszych klientów.

Gwarantujemy w pełni sprawne urządzenia gdyż wszystkie nasze urządzenia przed sprzedażą na zlecenie klienta poddawane są szczegółowej weryfikacji i wymaganym naprawom przez naszych fachowców. Sprawność techniczna naszych urządzeń zostaje potwierdzona i udokumentowana przez Inspekcję Urzędu Dozoru Technicznego.


Za nami duże grono zadowolonych klientów z całej Polski oraz Europy.


Niniejsze ogłoszenie jest wyłącznie informacją handlową i nie stanowi oferty w myśl art.66§ 1. Kodeksu Cywilnego. Sprzedający nie odpowiada za ewentualne błędy lub nieaktualność ogłoszenia.
Nota ta została zawarta ze względu na możliwość nie zamierzonych pomyłek.