The ad JCB 412S wheel loader for sale by auction has been sold and is not included in the search!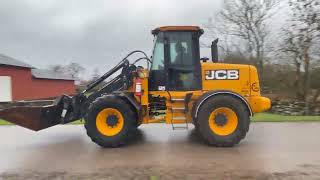 1/16
Location
Sweden
Placed on
more than 1 month
Wheel loader
Manufacturer: JCB
Model: 412 S
Meter reading: 12582 hours.
Year model: 2012.
Double-acting hydraulic outlet at the rear.
Loader arm suspension.
3rd function forward.
1 owner.

Accessories:
Planning scoop

Seller's Comment:
Continuously serviced and maintained.
Delivered newly inspected.
Everything works and runs very well.
Radlader
Hersteller: JCB
Modell: 412 S
Zählerstand: 12582 Stunden.
Baujahr: 2012.
Doppeltwirkender Hydraulikanschluss am Heck.
Aufhängung des Ladearms.
3. Funktion vorwärts.
1 Besitzer.

Zubehör:
Planungsschaufel

Kommentar des Verkäufers:
Kontinuierlich gewartet und gepflegt.
Geliefert neu geprüft.
Alles funktioniert und läuft sehr gut.
Rataslaadur
Tootja: JCB
Mudel: 412 S
Arvesti näit: 12582 tundi.
Aasta mudel: 2012.
Kahetoimeline hüdraulika väljalaskeava taga.
Laadija hoova vedrustus.
3. funktsioon edasi.
1 omanik.

Aksessuaarid:
Planeerimiskühvel

Müüja kommentaar:
Pidevalt hooldatud ja hooldatud.
Tarnitud äsja ülevaatusega.
Kõik töötab ja töötab väga hästi.
Ratinis krautuvas
Gamintojas: JCB
Modelis: 412 S
Skaitiklio rodmuo: 12582 valandos.
Metų modelis: 2012 m.
Dvigubo veikimo hidraulinis išėjimas gale.
Krautuvo svirties pakaba.
3 funkcija į priekį.
1 savininkas.

Priedai:
Planavimo kaušelis

Pardavėjo komentaras:
Nuolat prižiūrėtas ir prižiūrėtas.
Atvežtas naujai apžiūrėtas.
Viskas veikia ir važiuoja labai gerai.
Iekrāvējs uz riteņiem
Ražotājs: JCB
Modelis: 412 S
Skaitītāja rādījums: 12582 stundas.
Izlaiduma gada modelis: 2012.
Divkāršās darbības hidrauliskā izeja aizmugurē.
Iekrāvēja sviras balstiekārta.
3. funkcija uz priekšu.
1 īpašnieks.

Piederumi:
Plānošanas liekšķere

Pārdevēja komentārs:
Nepārtraukti apkalpots un uzturēts.
Piegādāts tikko pārbaudīts.
Viss darbojas un darbojas ļoti labi.
Ładowarka kołowa
Producent: JCB
Modelka: 412 S
Odczyt licznika: 12582 godziny.
Rok modelu: 2012.
Wyjście hydrauliczne dwustronnego działania z tyłu.
Zawieszenie ramienia ładowarki.
3. funkcja do przodu.
1 właściciel.

Akcesoria:
Szczypta planowania

Komentarz sprzedawcy:
Na bieżąco serwisowany i konserwowany.
Dostarczony świeżo po sprawdzeniu.
Wszystko działa i działa bardzo dobrze.
Hjullastare
Fabrikat: JCB
Modell: 412 S
Mätarställning: 12582 timmar.
Årasmodell: 2012.
Dubbelverkande hydrauluttag bak.
Lastarmafjädring.
3:dje funktion fram.
1 ägare.

Tillbehör:
Planerskopa

Säljarens kommentar:
Kontinuerligt servad och underhållen.
Levereras nybesiktigad.
Allt fungerar och går mycket bra.